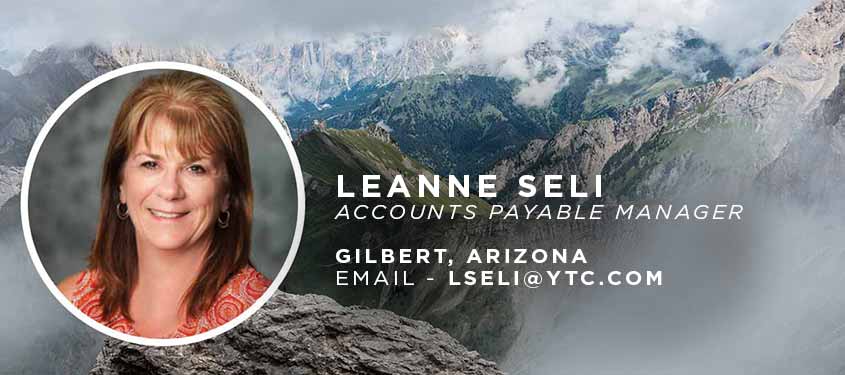 How long have you been with Your Travel Center? 
Since 1997.
What is your best advice to those joining Your Travel Center?  
Be sure to save the first few introductory emails (especially those involving accounting) in a safe place. They contain a wealth of information that will be helpful as you begin making sales.  
Tell the world briefly what you do at Your Travel Center and your role in supporting agents and independent contractors. 
In addition to handling the company's accounts payables (rent, utilities, etc.), I pay suppliers on behalf of our agents and ICs when a check is required. I also work with Maggie Jaramillo in calculating IC commission payments. I am always available to answer questions.
In a fun manner way describe your career path to Your Travel Center.
In 1994, my travel agent friend, Pam, was convinced that she could run an agency better than her current employer. She needed an accountant. I was a stay-at-home Mom with an accounting degree that was only being used in my role as PTO Treasurer. Together we started a travel agency in a local shopping center and recruited another neighbor to be our office manager. I became a full-fledged agent when Pam's cancer came back after the 1st year. Our agency sold a lot of Disney and cruises to families and friends at our children's elementary school. After 4 years, we sold the agency and I received an accounting position at Mill Avenue Travel. Mill Avenue became part of the Your Travel Center in 2007 and I was fortunate enough to be brought on to YTC's accounting staff.
What is the favorite part of your job? 
I love being able to work at home with my dog by my feet.  
If you weren't such a superstar at this job what would you be doing? 
I'd probably volunteer at the United Food Bank and The Clothes Cabin.
What do you do in your spare time or when not working at Your Travel Center?
Walking the dog, traveling and watching sports with my husband.
What makes you smile?
Right now, my first grandbaby, Owen Douglas Seli born to Matt and Lindsay Seli last month. I also love dogs, especially my dog, Kahlua.
What one word would your friends use to describe you? 
Loyal
Describe your Favorite Vacation…
They are all wonderful – but those that include hiking, scenery, and history are best.  Of course it must also be a place with a great breakfast and outside area for happy hour.
Beach, Mountains, City?
YES!